Twenty-five years ago, my partner and I opened our first locations of The Malvern School in the suburbs of Philadelphia. We both had extensive experience in the field of early childhood education and set out to introduce a new model for early learning at a time when families needed more options for full-time, high-quality, educational-based care. Our model—rooted in empowering skilled teachers to deliver individualized curriculum—took off fairly quickly. In just five years, we opened 10 schools, and today there are 27 Malvern Schools serving children from six weeks to 8 years old throughout Pennsylvania and New Jersey.
Our continued growth tells us that we have gotten a lot of things right. We have also learned a lot along the way and continue learning every day. As we celebrate The Malvern School's 25th anniversary (a milestone many well-known companies on the S&P 500 do not even reach), our tenured leadership team has been reflecting on how the industry has changed and on some of the key lessons from our journey. I am honored to share our perspectives in this article, including input from our director of educational programs, Christle Seal; senior program operations manager, Helene Swartz; program operations manager, Pat Zauflik-McGrath; and early childhood education specialist, Robyne Cook. Our hope is that these insights will help fellow early learning leaders deliver high-quality, sustainable programs that serve their students, their staff, and their communities.
1. It is ECE leaders' responsibility to respond to our constantly evolving world.
The experiences of childhood have changed dramatically due in large part to our increasingly digital world. While technology allows children to more easily connect with loved ones, explore the world and visit far away places, it has also made our global society more isolating and divisive. Shifts like this need to be factored into how we nurture our students. While a focus on kindness, respect, and hands-on learning has long been a part of high-quality ECE, the need has never been greater to provide children learning opportunities dedicated to the development of critical thinking skills, character values, inclusivity, self-regulation, and a strong sense of curiosity.
2. Do your due diligence before jumping on the bandwagon.
New strategies, programs, and tools for both teaching and business management are rolling out all the time. And sometimes it seems like everyone else in the field is rushing toward those shiny new things. It is important to take the time to thoroughly evaluate these concepts or resources before adopting them. Beyond making sure they are rooted in appropriate research, carefully consider how they will advance your mission and if they should take priority over something else that could have a bigger or more meaningful impact on your school community.
3. Embrace change—and encourage your team to do the same.
We all know young children can have a hard time with change, and they are not alone. As humans, we are hardwired to gravitate toward what is familiar, even if we know that change is a natural part of growth. We remember using paper cards for tuition ledgers and the days before credit cards were accepted for payment. Clearly, operations have improved dramatically throughout the industry, though at the time, implementing digital tools to modernize these processes was a big adjustment.
Encouraging ourselves to keep an open mind when it comes to change, our curriculum at The Malvern School has evolved over the years to strategically incorporate computer-based learning programs for children. Programs such as Teaching Strategies GOLD help our teachers track developmental milestones and apps like Tadpoles allow us to communicate with families in real time. These are all changes that have provided huge benefits that would not have been realized if we had not taken those well-researched leaps of faith to move forward.
To stay at the top of your game, constantly challenge yourself to dive deep into your programs and business practices. Do not shy away from making adjustments where needed, even if what you are doing is "okay."
ADVERTISEMENT
4. Hiring qualified teachers and staff is a game-changer.
While so much has changed in the industry, one thing has not: the fact that the quality of early learning experiences starts and ends with the quality of teachers and staff. That quality is synonymous with proper education and qualifications that enable teachers to meet each of their students where they are and fully develop the whole child. Empowering teachers to use their experience and knowledge to benefit children is a game-changer for everyone. It is also a big part of what defines the child care programs that are sought-out by families and staff today.
Do not forget that hiring the right people for the job is just the beginning. The key is to hire well, train well, and support well by providing continuous professional development opportunities.
5. Do not be afraid to ask for help from other early learning leaders.
It was not until the COVID-19 crisis that we fully tapped into the power of our peers in the industry. It is amazing what information can be shared among people who are facing or have faced similar challenges. Prioritizing collaboration over competition, we have been on the giving end and the receiving end of assistance numerous times, from initially securing COVID-19 vaccines for staff and procuring supplies in the midst of supply chain shortages, to evaluating virtual learning delivery methods and managing the industry-wide teacher shortage.
Whether it is through an industry association like the Early Care & Education Consortium or your own local network, do not be afraid to ask for help when you need it. You may be pleasantly surprised with just how far this type of collaboration can take you.
What the Future Holds
Our industry is at the beginning of a new chapter. As many have said, the pandemic showcased the essential role child care plays in the world economy and today's family structure. With this public understanding—and insight that can make our programs even stronger—ECE leaders everywhere have the ability to solidify early learning in the educational infrastructure, advocate for better funding, and lead the industry into the next 25 years and beyond.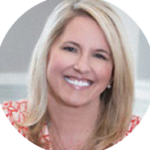 Kristen M. Waterfield is CEO and founder of The Malvern School, the largest privately owned preschool in Greater Philadelphia. A recognized leader in business and education, she has fueled the growth of the organization over the past 20+ years-which now includes 27 schools throughout Pennsylvania and New Jersey and a team of more than 600 teachers and staff-and educated and empowered more than 30,000 children.